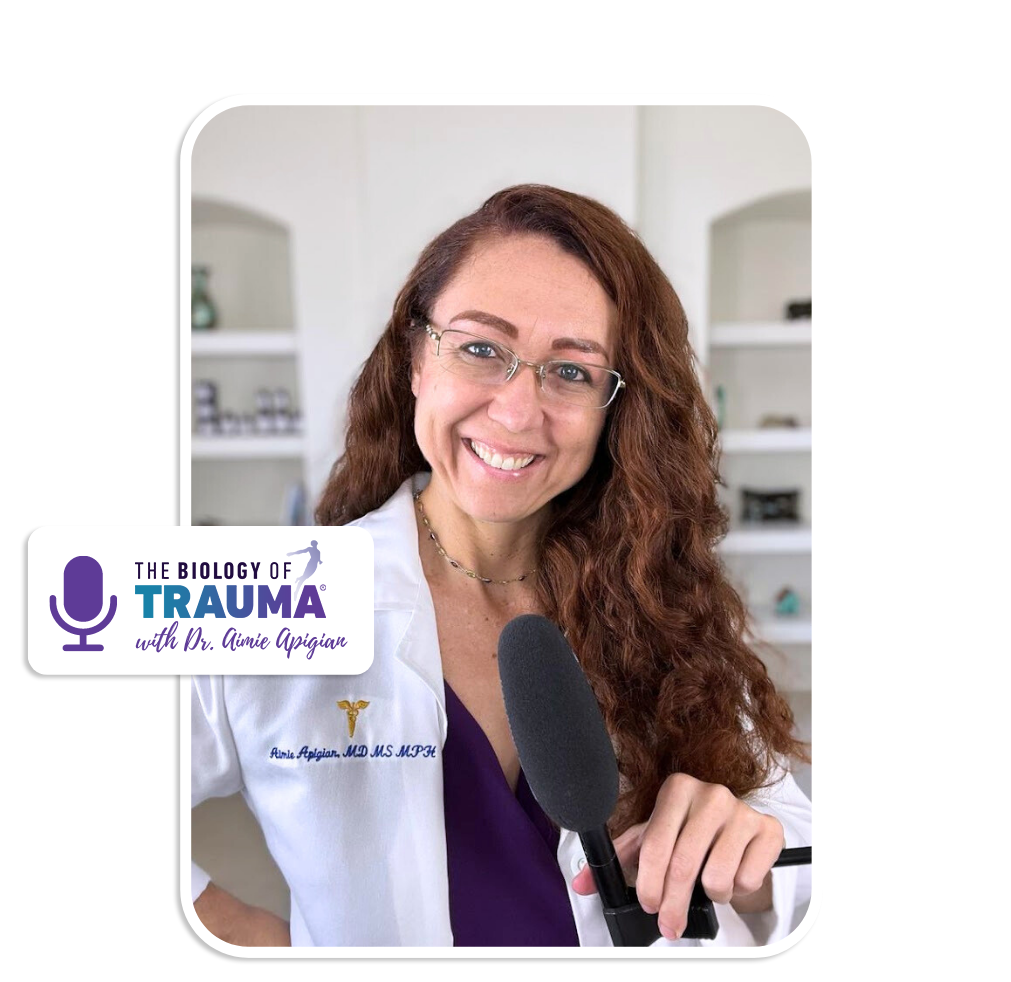 Biology of Trauma® Podcast
With Dr. Aimie Apigian MD, MS, MPH
Episode 4: Recognizing And Overcoming The Freeze Response And Experiencing More Joy With Irene Lyon, Part 2
Shownotes:
Trauma is often defined as an event, but the freeze response can develop from the most subtle inconsistencies from your childhood. Today is part two of my interview with Irene Lyon, a somatic practitioner and nervous system expert. She explains how trauma is not always obvious and how you can overcome your freeze response without even knowing the original cause.
The path to joy is not through analyzing the past but by understanding how you feel today. Even if you had an amazing childhood and find it difficult to come to terms with your current feelings of anxiety because you have no event to blame it on, there is a clear path to joy that you can begin today.
Your nervous system is connected and controls every cell in your body, so a perceived threat can upset your hormones, gut, and every stress organ in your body which can cause uncomfortable physical sensations and anxiety. Irene offers somatic tools that will highlight your traumatic freeze response, giving you the opportunity to address and move through them. It is a painful process, but through hard work, you will become in tune with your body and finally be able to experience joy, safety, and support.
Timestamps:
[1:47] How Insecurities are Created by Seemingly Harmless Inconsistencies in Childhood

[4:40] Learning different standards of




behaviors from each parent

[6:40] What Happens When you Don't Address Childhood Inconsistencies

[9:40] Attempting to compartmentalize the natural flow of human expression

[11:30] Entering into survival mode keeps you from living a normal healthy life

[13:00] How to Start the Healing Process

[15:00] If your biology can't internally motivate it can tarnish learned behaviors

[17:10] Embrace discomfort and get curious about your body's natural processes

[21:00] Remind yourself that everyday you have the ability to make a different choice

[22:40] The Life that is Possible After Healing

[28:00] Learning the language of your nervous system through intentional touch

[32:00] Connecting with your body and expanding into a life of joy.
Find More From Irene:
Irene Lyon: https://irenelyon.com/
21-Day Tune-Up: https://21daytuneup.com/
Youtube: https://www.youtube.com/c/IreneLyon
Instagram:  https://www.instagram.com/irenelyon/
Connect with me on social media
Products I recommend from this episode
Magnesium Calm – If you want better sleep and to ease brain inflammation then taking this supplement will help you.
Be safely guided step-by-step through the essential process for addressing stored trauma in your body.
Disclaimer:
By listening to this podcast, you agree not to use this podcast as medical advice to treat any medical condition in either yourself or others. Consult your own physician for any medical issues that you may be having.  This entire disclaimer also applies to any guests or contributors to the podcast. Under no circumstances shall Trauma Healing Accelerated, any guests or contributors to The Biology of Trauma podcast, or any employees, associates, or affiliates of Trauma Healing Accelerated be responsible for damages arising from the use of the podcast.
Comment Etiquette:
I want to hear from you!  I would love to hear your thoughts on this episode and let's make them constructive! A few requests: Please refrain from including URLs and using yours or someone else's business name to steer clear of spam.  Please do use your personal name or initials. 
Let's have a constructive, positive and productive discussion!
Have a question? Want to leave a comment? I want to hear from you.