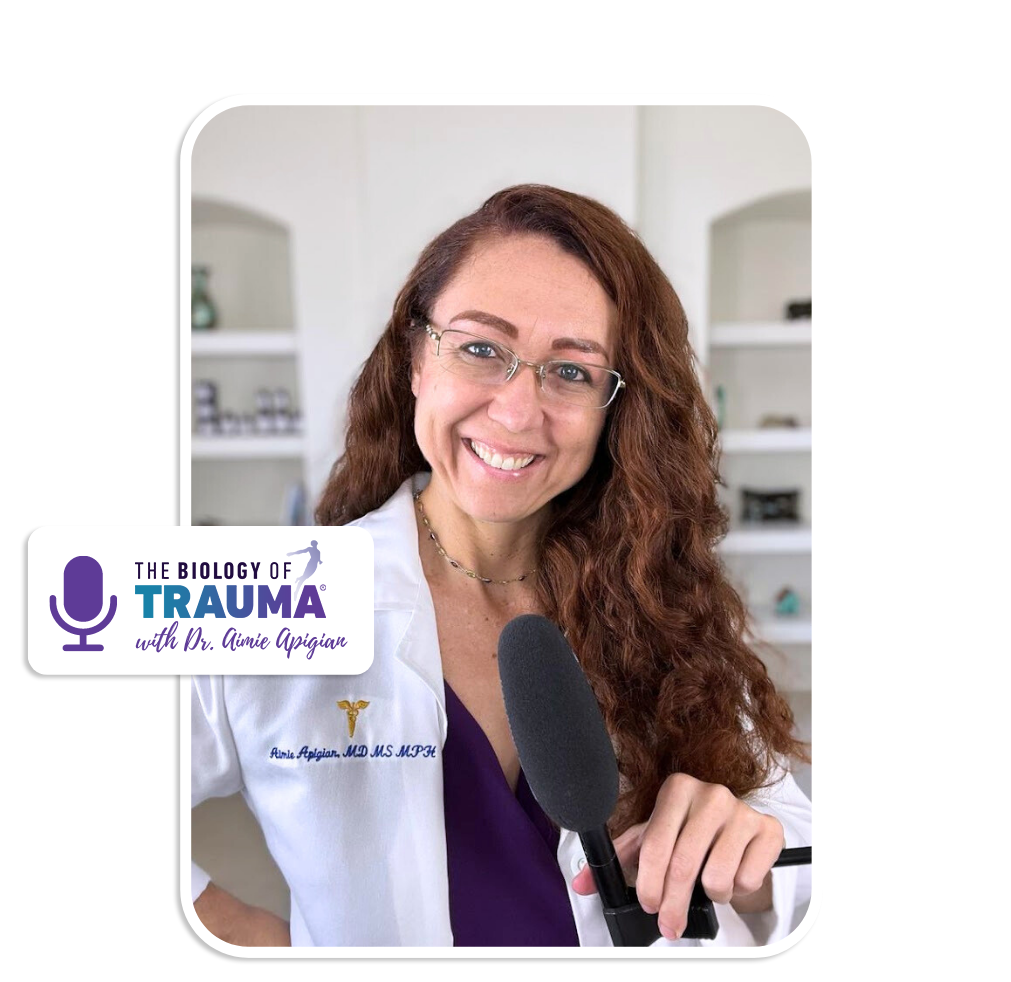 Biology of Trauma® Podcast
With Dr. Aimie Apigian
Episode 47: Link Between Nervous System, Physical Presence, And Self-Expression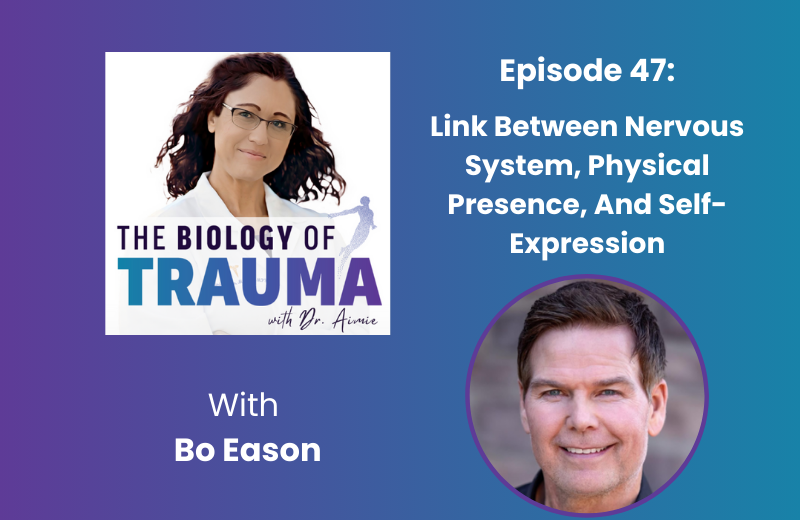 "Your physicality is your vehicle for all communication, leadership, and influence."
Show notes: 
In this episode, Bo Eason, former NFL player, speaker, and author, and I discuss the role of physicality and self-expression in effective communication, parenting, and relationships. This episode answers this one question: What's the connection between the state of your nervous system, your physical presence, and your ability to communicate well?
Bo and I explore the importance of being physically and mentally present in different areas of life, and touch upon the parallels between elite athletes and impactful communicators who express themselves through their strong postures and voices. Bo shares his personal journey and insights on utilizing the body and voice for compelling storytelling and presence. As the author of the book There's No Plan B For Your A-Game, Bo believes that the human body is a powerful instrument and with adaptability and continuous learning, anyone can become a great communicator and excellent at what they do.
Key Takeaways:
Here's what you'll learn about in this episode:
How physicality makes communication impactful

What state your nervous system needs to be to foster creativity and play

What exercise can activate your voice

Ways that presence and embodiment support parenting

Why people with a history of trauma may struggle to embrace their power and be fully present

The need to unapologetically embrace your natural power on the trauma healing journey.
Timestamps for thie Episode:
00:01:00: Introduction to Bo Eason and his story

00:03:00: Dr. Aimie explains Somatic Experiences and their role in trauma work.

00:07:00: Dr. Aimie outlines several actionable steps for improving presence and authenticity when processing trauma.

00:11:00: A member of the 21 Day Joueney, Michael, shares insights from his parts work journey.

00:15:00: Dr. Aimie explains biological aspects of trauma.

00:19:00: Two other 21 Day Journey members, Cassidy and Karen, share their experiences with somatic practices.

00:23:00: Bo Eason talks about developing presence and its impact.
Interested to learn more about what I do? Click here.
More about our guest: 
Bo Eason is a speaker, performer, and author who started his career in the NFL, as a top pick for the Houston Oilers. Continuing on with the San Francisco 49ers, during his 5-year career Bo competed beside and against some of the greatest players of his generation. In 2001, Bo wrote and performed his one-man play, Runt of the Litter, which opened in New York to rave reviews. The New York Times called it "One of the most powerful plays in the last decade." Bo toured with the play in over 50 cities and it is now being adapted as a major motion picture. In his quest for excellence on the stage, Bo trained with some of the world's most brilliant performance and movement coaches, Larry Moss and Jean-Louis Rodrigue. 
Bo now draws from their techniques and wisdom to coach others to be excellent presenters and storytellers. Bo is dedicated to helping others tap the power of their personal story and become effective, persuasive communicators. He delivered his keynotes and workshops to groups such as Protective Life Insurance, Dimensional Fund Advisors, Morgan Stanley, and Young Presidents Association. Bo has also appeared as a guest on shows like Bill Maher, Fox Sports Net, ESPN, The Rosie O'Donnell Show and CNN. Bo got the opportunity to share his life experiences and inspirational lessons with the world! Bo wrote There's No Plan B For Your A-Game because he truly believes that anyone has the ability to be great. His book uses inspiring, practical, and real-world guidance, coupled with absolute accountability to teach anyone how to be the best in the world at what they do: the best leader, the best business owner, the best athlete, the best artist, the best partner, the best parent.
Know How Your Body Response To Trauma
Connect with me on social media
Products I recommend from this episode
Be safely guided step-by-step through the essential process for addressing stored trauma in your body.
Disclaimer:
By listening to this podcast, you agree not to use this podcast as medical advice to treat any medical condition in either yourself or others. Consult your own physician for any medical issues that you may be having.  This entire disclaimer also applies to any guests or contributors to the podcast. Under no circumstances shall Trauma Healing Accelerated, any guests or contributors to The Biology of Trauma podcast, or any employees, associates, or affiliates of Trauma Healing Accelerated be responsible for damages arising from the use of the podcast.
Comment Etiquette:
I want to hear from you!  I would love to hear your thoughts on this episode and let's make them constructive! A few requests: Please refrain from including URLs and using yours or someone else's business name to steer clear of spam.  Please do use your personal name or initials. 
Let's have a constructive, positive and productive discussion!
Have a question? Want to leave a comment? I want to hear from you.