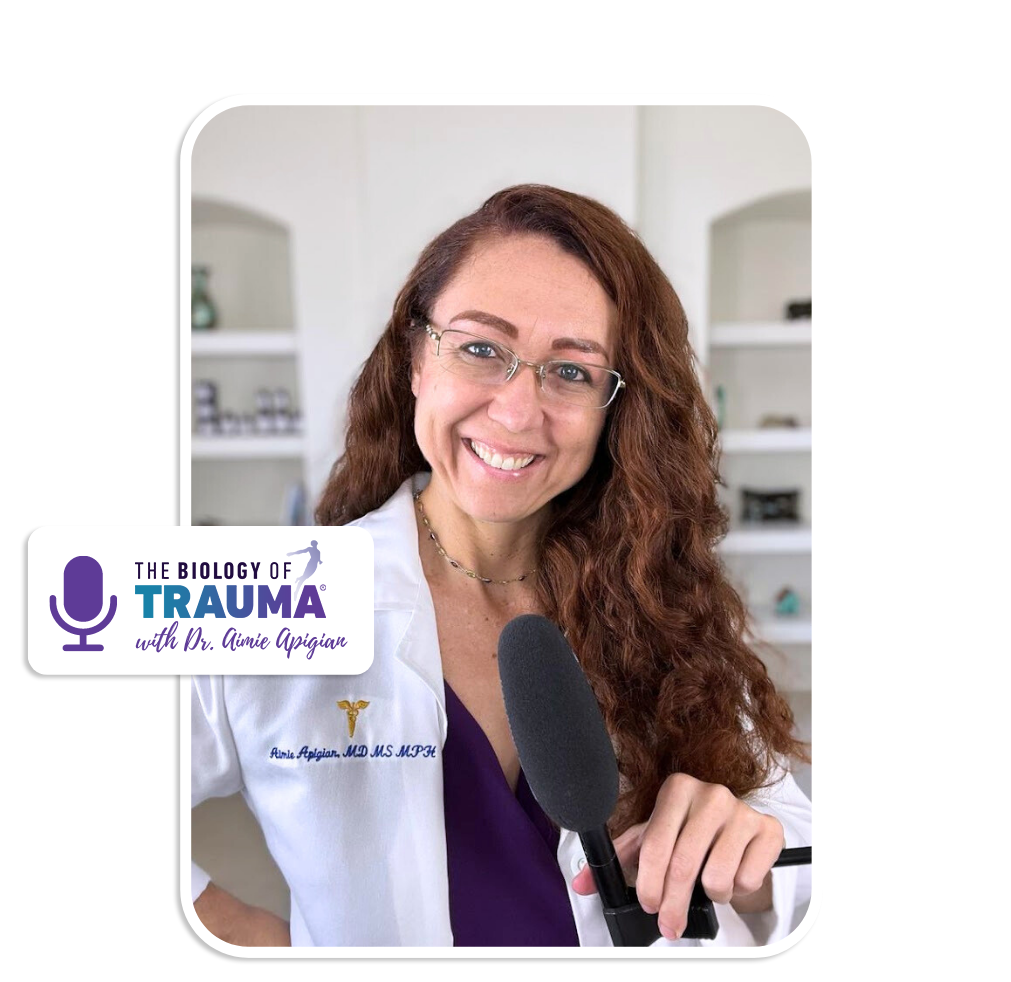 Biology of Trauma® Podcast
With Dr. Aimie Apigian
Episode 15: Ending The Cycle Of Trauma With Your Host, Dr. Aimie Apigian
Show Notes
Today on The Biology of Trauma, I share more of my story and why I chose to work in the field of trauma. It has to do with my grandfather and my father's stories…
You'll learn:
 Three principles of trauma work:

Are you living in a fortress or living in a trail? Flexibility vs. Rigidity Just take the one next best step

Surviving is not living, and too many people are living life feeling numb, detached, and in full-blown survival mode. In the 21-day Journey, I teach you the skills to address how your body has adapted to survive so you can revive your spirit again. By fighting for your life and doing the work, you can take control of your life again.
Timestamps:
[0:40] Why my father's experience with trauma inspired the work I do today

[4:10] My goal is to revive the spirit after trauma, so people don't go through life feeling numb

[7:30] Implicit memory is the body's memory of trauma that we sometimes aren't conscious of

[9:30] When things overwhelm our system, our body changes and it adapts to survive

[10:15] Time does not heal because unaddressed adaptations will keep you in survival mode

[12:10] Defy your ideas of danger by increasing your stress tolerance to embrace curiosity again

[15:00] Trauma creates rigidity, but as you do the work, your nervous system becomes flexible

[18:00] Releasing trauma boosts your ability to stay present, problem-solve, and think creatively
Connect with me on social media
Products I recommend from this episode
Magnesium Calm – If you want better sleep and to ease brain inflammation then taking this supplement will help you.
Be safely guided step-by-step through the essential process for addressing stored trauma in your body.
Disclaimer:
By listening to this podcast, you agree not to use this podcast as medical advice to treat any medical condition in either yourself or others. Consult your own physician for any medical issues that you may be having.  This entire disclaimer also applies to any guests or contributors to the podcast. Under no circumstances shall Trauma Healing Accelerated, any guests or contributors to The Biology of Trauma podcast, or any employees, associates, or affiliates of Trauma Healing Accelerated be responsible for damages arising from the use of the podcast.
Comment Etiquette:
I want to hear from you!  I would love to hear your thoughts on this episode and let's make them constructive! A few requests: Please refrain from including URLs and using yours or someone else's business name to steer clear of spam.  Please do use your personal name or initials. 
Let's have a constructive, positive and productive discussion!
Have a question? Want to leave a comment? I want to hear from you.