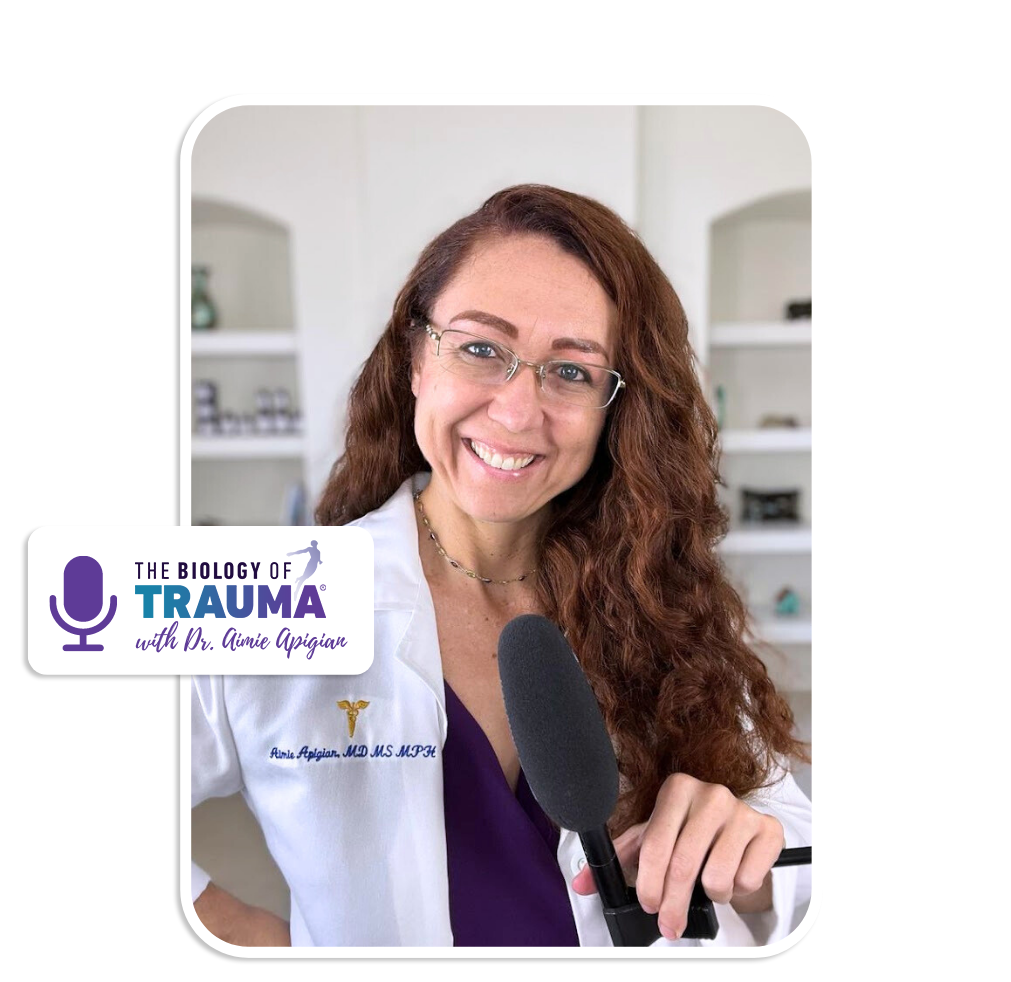 Biology of Trauma® Podcast
With Dr. Aimie Apigian
Episode 11: What Is My "Why?" With Alex Howard, Part 1
Show Notes
Today on Biology of Trauma, Alex Howard, The founder of the Optimum Health Clinic, joins me for a Fireside chat. In this episode, I share my story of how I transitioned from working as a general surgeon to a trauma practitioner. My hope is that my journey will provide some hope and show you that there is a clear path forward through overwhelm to being your best self.
Overwhelm is synonymous with trauma, and I certainly was living in a severe pattern of overwhelm without even knowing it. I struggled to help my adopted son overcome his own trauma because, at that point, I did not have the tools I teach others today. Until I was bedridden and forced to pause, I had never taken the time to reflect on my mental or physical well-being. During that time, I learned so much about myself, healing and trauma. Everyone experiences trauma, and everyone can heal; that is why I do this work.
In every medical discipline, trauma is rampant, but so few practitioners are equipped with the knowledge to properly address stored trauma in the body. Some unknowingly worsen the nervous system by introducing tools too fast or at the wrong time. It is hard to accept that healing is a journey with no shortcuts, but there is always hope. Your journey can start today by building awareness and taking even the smallest step toward healing.
Timestamps:
[2:05] What do we even mean when we say trauma? 

[4:00] Trauma is not just mental but is stored in the physical body 

[5:00] Anything that overwhelms the system is trauma 

[7:29] The vagus nerve rules digestion, so digestive issues are a common pattern of overwhelm 

[10:11] Dr.Aimie's journey from general surgeon to trauma practitioner 

[11:08] Learning to heal her son and accepting when it was time to let go 

[13:00] Releasing control and, for the first time, addressing her own stored trauma

[14:45] Bedridden and reaching the tipping point

[18:30] What common mistakes do people make on their healing journey? 

[19:50] Detoxing too much and too fast is dangerous when dealing with stored trauma 

[20:20] Healing is often years of consistent, incremental, and slow healing 

[22:20] During overwhelm, your body doesn't have the energy to make good decisions
Find More From Alex Howard: The Optimum Clinic
Connect with me on social media
Products I recommend from this episode
Magnesium Calm – If you want better sleep and to ease brain inflammation then taking this supplement will help you.
Be safely guided step-by-step through the essential process for addressing stored trauma in your body.
Disclaimer:
By listening to this podcast, you agree not to use this podcast as medical advice to treat any medical condition in either yourself or others. Consult your own physician for any medical issues that you may be having.  This entire disclaimer also applies to any guests or contributors to the podcast. Under no circumstances shall Trauma Healing Accelerated, any guests or contributors to The Biology of Trauma podcast, or any employees, associates, or affiliates of Trauma Healing Accelerated be responsible for damages arising from the use of the podcast.
Comment Etiquette:
I want to hear from you!  I would love to hear your thoughts on this episode and let's make them constructive! A few requests: Please refrain from including URLs and using yours or someone else's business name to steer clear of spam.  Please do use your personal name or initials. 
Let's have a constructive, positive and productive discussion!
Have a question? Want to leave a comment? I want to hear from you.