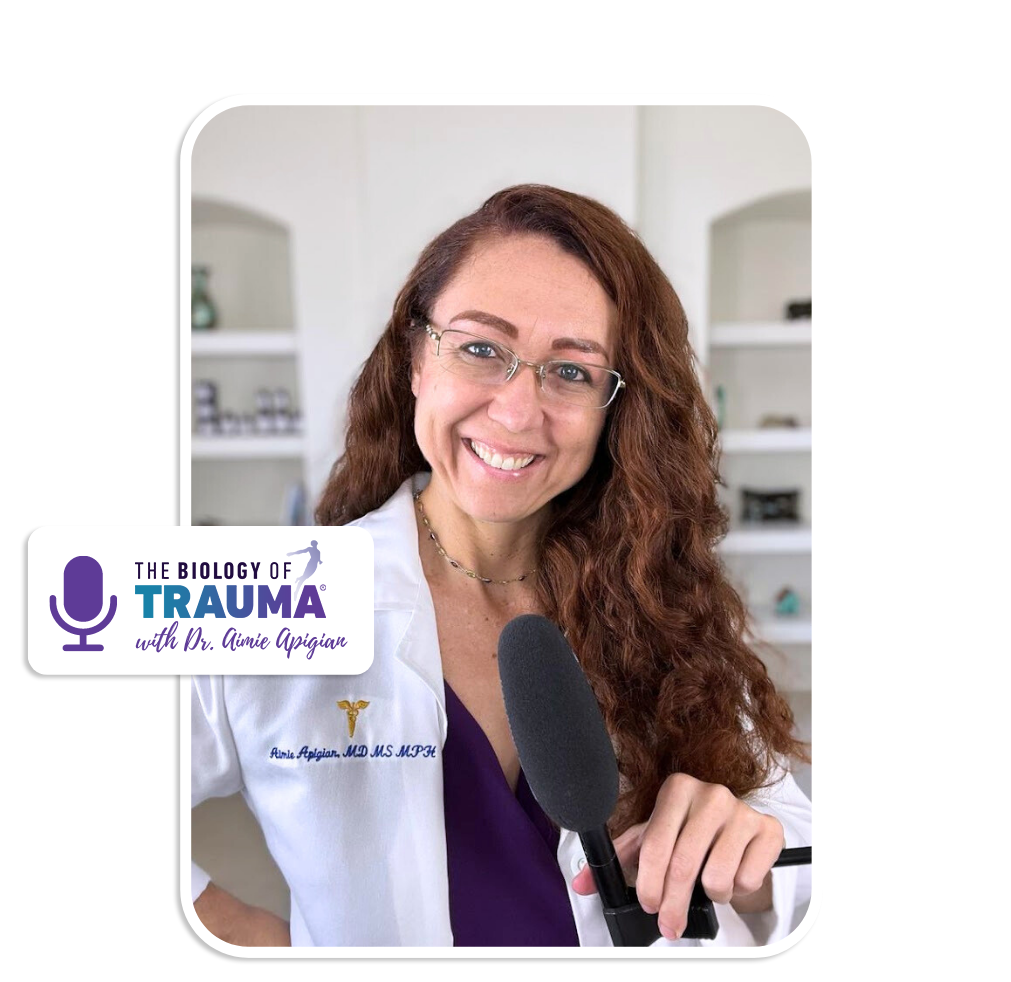 Biology of Trauma® Podcast
With Dr. Aimie Apigian MD, MS, MPH
Episode41: Solutions For Low Serotonin And GABA In Trauma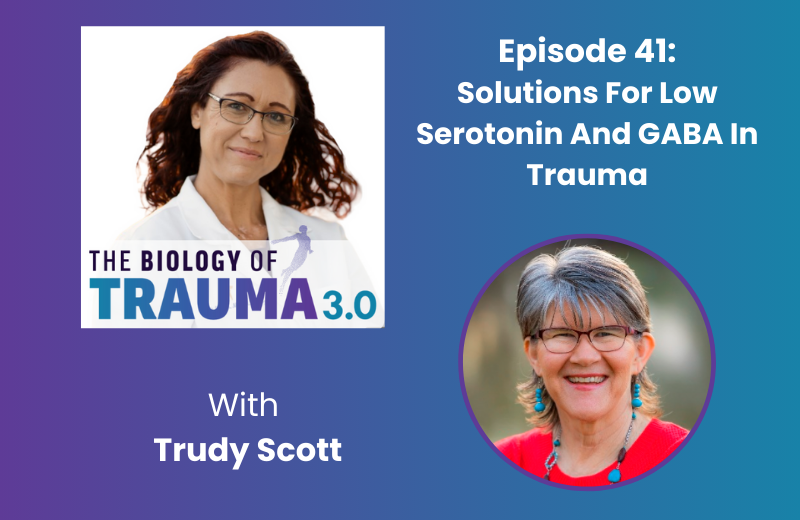 "..it's so empowering for people to know that they can take control of their own health and their own symptoms.."
Show Notes:
In this episode, Dr. Aimie Apigian and Trudy Scott delve into the complex relationship between trauma, neurotransmitters, and biochemistry. Trudy Scott, a certified nutritionist and founder of the Anxiety Nutrition Institute, shares her expertise on how low levels of serotonin and GABA can significantly affect those with PTSD symptoms. The episode aims to answer the question: What to do about low serotonin and low GABA in trauma?
What you will hear in this episode:
The importance of understanding serotonin and GABA levels in those with PTSD symptoms [00:02:15]

Challenges of tapering off mood medications and the risk of rebound anxiety [00:08:00]

Symptoms of low serotonin and low GABA and how they manifest [00:12:15]

The role of amino acids in addressing neurotransmitter deficiencies [00:14:18]

The vicious cycle of cortisol affecting neurotransmitters like serotonin and GABA [00:07:06]

The dangers of using medications like benzodiazepines and SSRIs without addressing the root cause [00:09:17]

The impact of trauma on neurotransmitter levels and the body's natural ability to produce them [00:11:38]

The role of self-medication through substances like alcohol and marijuana in low GABA activity [00:17:08]

The quick-acting nature of amino acids like tryptophan and GABA [00:19:20]

The importance of finding the root cause of trauma and addressing it [00:19:54]

Empowerment through understanding and controlling your own health [00:20:08]
Interested to learn more about what I do? Click here.
Know How Your Body Response To Trauma
Know How Your Body Response To Trauma
Connect with me on social media
Products I recommend from this episode
Be safely guided step-by-step through the essential process for addressing stored trauma in your body.
Disclaimer:
By listening to this podcast, you agree not to use this podcast as medical advice to treat any medical condition in either yourself or others. Consult your own physician for any medical issues that you may be having.  This entire disclaimer also applies to any guests or contributors to the podcast. Under no circumstances shall Trauma Healing Accelerated, any guests or contributors to The Biology of Trauma podcast, or any employees, associates, or affiliates of Trauma Healing Accelerated be responsible for damages arising from the use of the podcast.
Comment Etiquette:
I want to hear from you!  I would love to hear your thoughts on this episode and let's make them constructive! A few requests: Please refrain from including URLs and using yours or someone else's business name to steer clear of spam.  Please do use your personal name or initials. 
Let's have a constructive, positive and productive discussion!
Have a question? Want to leave a comment? I want to hear from you.