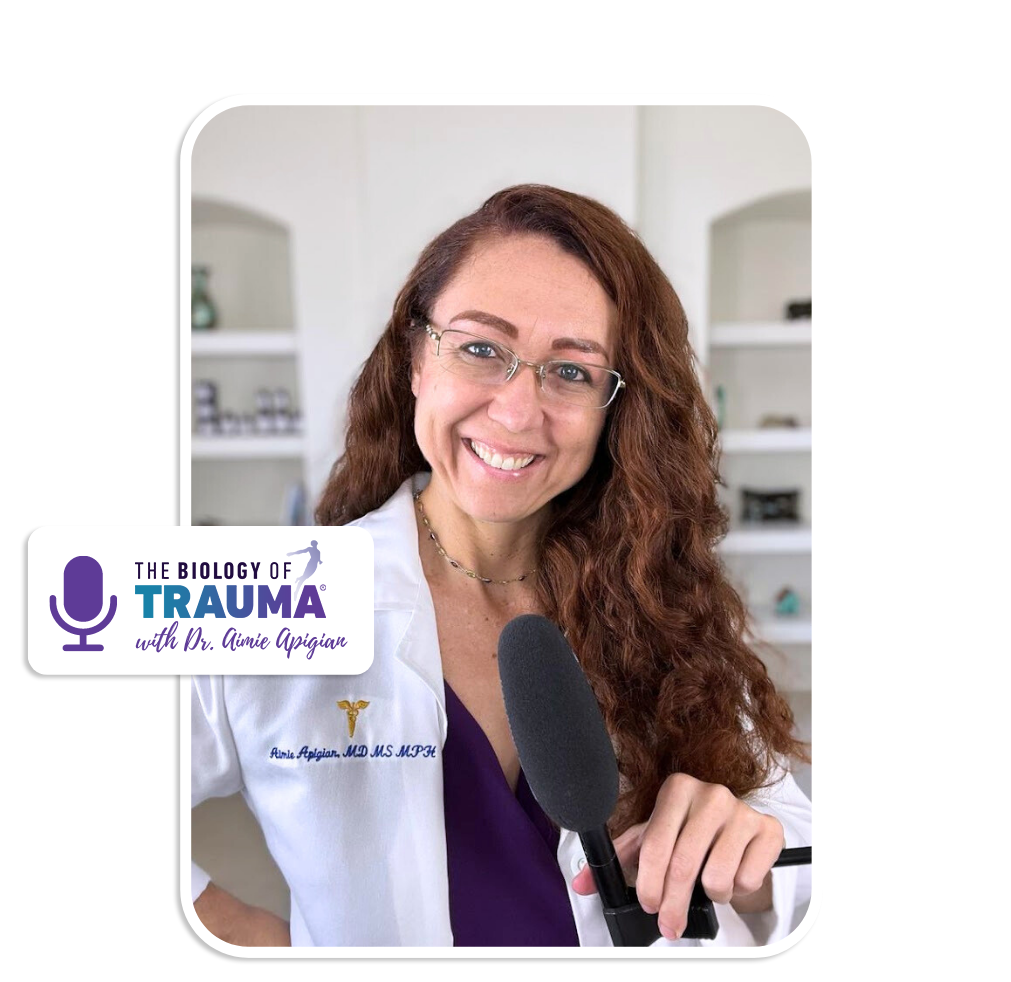 Biology of Trauma® Podcast
With Dr. Aimie Apigian
Episode 33: When Trauma Is Hijacking Your Body: The 3 Essential Pillars For The Healing Journey
"..And I was just literally for years and years and years seeking help outside myself. Doctors, hundreds of 1000s of dollars in debt, you know, just trying to find out what was wrong and to put this fire out on the outside because I was just focusing on my skin.."
Show Notes:
Learning to recognize the disease-trauma connection is a huge part of getting to work healing yourself. This week I am excited to have Jude Weber, a practitioner of Biology of Trauma™ and EFT on the podcast. Jude's journey has taken many twists and turns for her to be here today. This is the real life story of how nervous system dysregulation was the root cause of her eczema, eating disorders, and relationship troubles.
What you will hear in this episode:
The necessity of an integrative approach to trauma work, especially as it relates to our physical health

The essential element of somatic work

The essential element of the biology piece

The essential element for parts work
Key Takeaways:
[02:42] Introduction to Jude Weber's health concerns

[08:29] Dr. Aimie talks about taking an integrative approach to trauma work to heal our physical bodies

[10:30] Beginning the somatic work

[14:18] Somatic work is an essential pillar to an integrative approach to trauma

[19:10] Addressing the biology work

[20:53] Biology work is another essential pillar to an integrative approach to trauma

[23:41] The third essential pillar is parts work

[26:21] Parts keep holding us back from the rest of the world

[29:53] What is parts work and why is it so important? 
Interested to learn more about what I do? Click here.
Helpful Links:
Know How Your Body Response To Trauma
Connect with me on social media
Products I recommend from this episode
Serenity Starter Bundle – If you want your body to better communicate stored trauma then this bundle will help you.
Be safely guided step-by-step through the essential process for addressing stored trauma in your body.
Disclaimer:
By listening to this podcast, you agree not to use this podcast as medical advice to treat any medical condition in either yourself or others. Consult your own physician for any medical issues that you may be having.  This entire disclaimer also applies to any guests or contributors to the podcast. Under no circumstances shall Trauma Healing Accelerated, any guests or contributors to The Biology of Trauma podcast, or any employees, associates, or affiliates of Trauma Healing Accelerated be responsible for damages arising from the use of the podcast.
Comment Etiquette:
I want to hear from you!  I would love to hear your thoughts on this episode and let's make them constructive! A few requests: Please refrain from including URLs and using yours or someone else's business name to steer clear of spam.  Please do use your personal name or initials. 
Let's have a constructive, positive and productive discussion!
Have a question? Want to leave a comment? I want to hear from you.