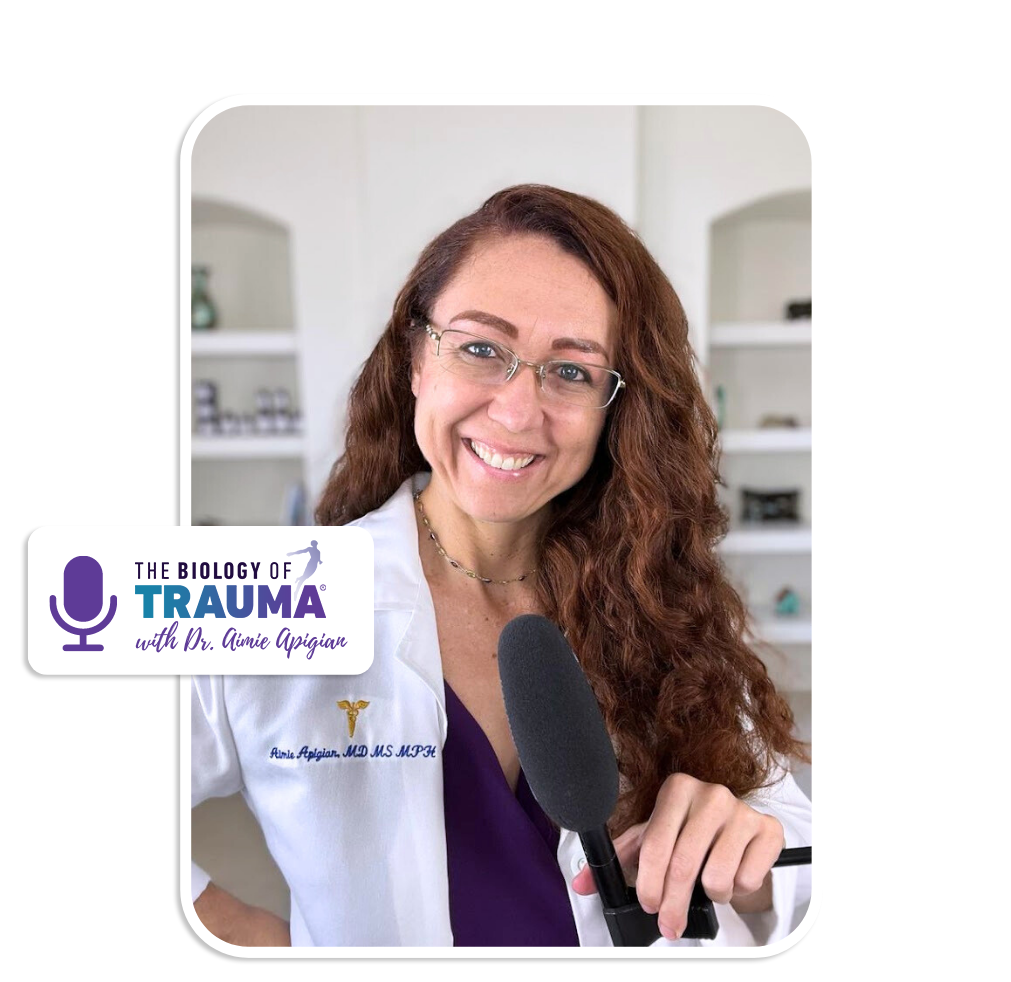 Biology of Trauma® Podcast
With Dr. Aimie Apigian
Episode 19: Which Trauma Tools Can Increase A Counselor's Revenue Without Advertising?
Show Notes
"Biology of Trauma helped me grow through life, not just go through life." Which trauma tools can increase a counselor's revenue without advertising? Listen in to this fascinating look into one woman who invested in herself and, in doing so, changed her life and is changing the world around her.
You'll learn:
Becoming an expert in your own nervous system through somatic work Diving into how the parts work Understanding how to work with trauma on a biological level
To answer this question on the Biology of Trauma™ Podcast, I have invited Manisha Bilimoria, a counselor living and working in Sri Lanka and an alumnus of my 21 Day Journey, among other courses, to share her inspiring story of her own unknown health issue, financial distress, and more importantly her willingness to do her own trauma work in order to make a difference in the pain and fear we see around us.
Manisha moved from India to Sri Lanka 26 years ago to live with her minister husband and experienced a shocking culture shift. She moved from a city to the country on an island where war was going on without even knowing the local languages. It was very overwhelming for her. She began studying counseling and psychology when she realized she was passionate about trauma. It is important that we can recognize trauma in the body through:
Body sensations Thoughts of overwhelm Our physical health conditions
Timestamps:
[1:45] Manisha shares her story of moving from India to Sri Lanka where there was a war going on with her minister husband, not knowing the local languages and how overwhelmed she felt

[3:08] The physical ailments Manisha was experiencing that no one could figure out

[4:12] Three ways to recognize trauma in the body

[5:07] Trauma is not an event – it's the experience of overwhelm for your nervous system

[6:09] The transformation Manisha experienced while doing  the 21 Day Journey

[8:26] The trauma tools Manisha used to increase her revenue without advertising

[10:00] We can only take people as far as we have been ourselves – time to become an expert in your own nervous system!

[13:03] Manisha begins to understand and connect with her body sensations – and learning how to connect with others to help them connect with themselves, working with trauma on a biological level

[15:50] Manisha finds the shift and learns about her health struggles and learns the trauma patterns

[17:06] The Trap – thinking that studying about trauma is doing trauma work

[18:36] How experiences make us who we are in our biology!

[20:19] Finding ways to self-regulate your nervous system especially in times of crisis

[23:13] Identifying trauma patterns, and understanding that we aren't stuck with those patterns
Connect with me on social media
Products I recommend from this episode
Magnesium Calm –  If you want better sleep and to ease brain inflammation then taking this supplement will help you.
Be safely guided step-by-step through the essential process for addressing stored trauma in your body.
Disclaimer:
By listening to this podcast, you agree not to use this podcast as medical advice to treat any medical condition in either yourself or others. Consult your own physician for any medical issues that you may be having.  This entire disclaimer also applies to any guests or contributors to the podcast. Under no circumstances shall Trauma Healing Accelerated, any guests or contributors to The Biology of Trauma podcast, or any employees, associates, or affiliates of Trauma Healing Accelerated be responsible for damages arising from the use of the podcast.
Comment Etiquette:
I want to hear from you!  I would love to hear your thoughts on this episode and let's make them constructive! A few requests: Please refrain from including URLs and using yours or someone else's business name to steer clear of spam.  Please do use your personal name or initials. 
Let's have a constructive, positive and productive discussion!
Have a question? Want to leave a comment? I want to hear from you.