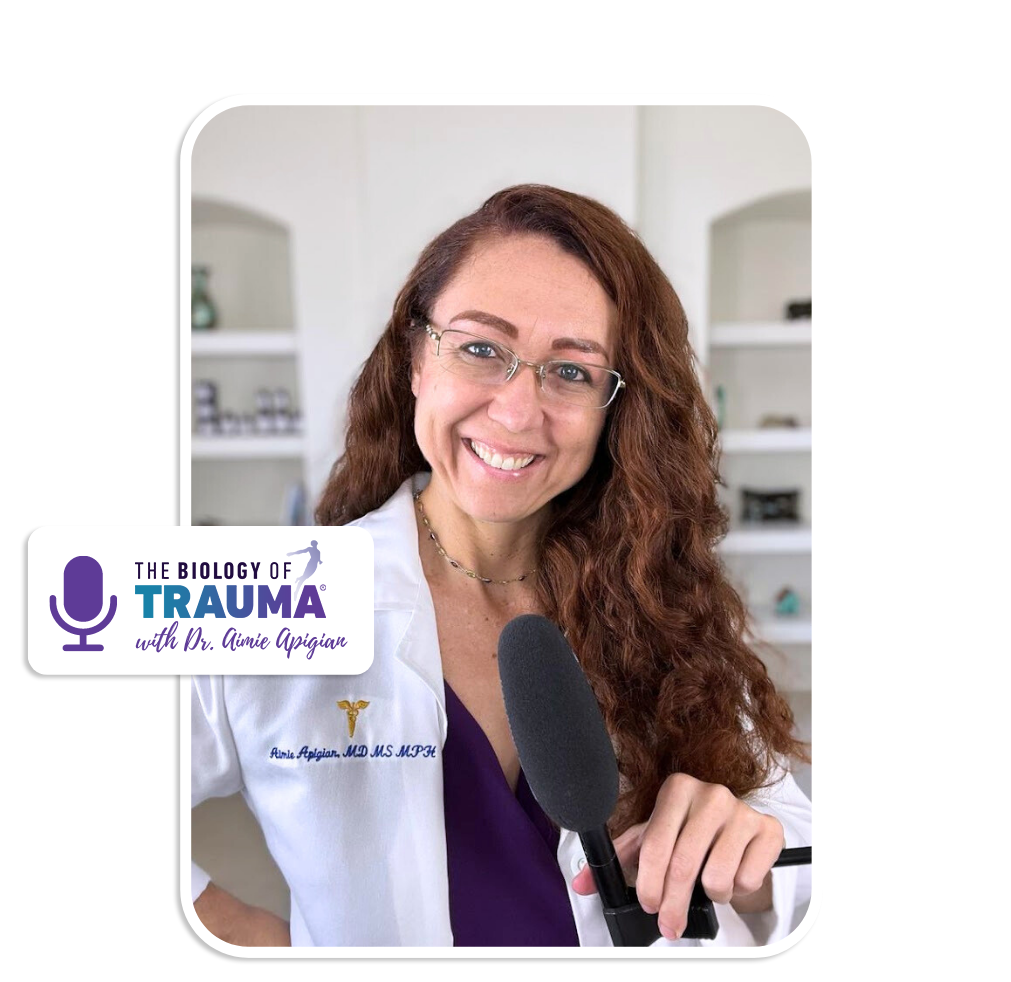 Biology of Trauma® Podcast
With Dr. Aimie Apigian
Episode 13: Why Does Trauma Make It Difficult For Us To Say, "I Don't Know?" With Bette Lamont, Part 1
Show Notes
Have you ever struggled to acknowledge that you don't know something because you feared the repercussions? This trauma response often stems from lessons learned in early development. Today on The Biology of Trauma, Bette Lamont joins us from the NeuroDevelopmental Movement to discuss how trauma plays a role in children's development out of the fear of the repercussions of not knowing.
Bette has worked with traumatized children for over 35 years. Her work started with helping children with learning disabilities. But, as she noticed the patterns in her clients, she refocused her career on discovering how to support children before they become traumatized. Bette is a certified counselor, teacher, therapist, and parent herself. In this episode, she describes how culture has created a mass of developmental issues in young children simply by removing the primary caregiver before the child is even biologically capable of processing separation.
You'll learn:
It is becoming more and more typical for children to be diagnosed with severe learning impediments, emotional problems, and attention disorders. But just because these are now typical does not mean they are natural. Babies require safety in the first three years of life to learn and love; the mothers' nervous system primarily informs that sense of security. As parents are forced to return to work as early as 12 months, children are hardly given a fighting chance to develop and are often expected to build resilience to meet the needs of their caretakers.
It is possible to heal at any age. Learning why these things happen in the first place is a step toward healing. By rebuilding trust and safety in children and adults, it is possible to heal the deep wounds of trauma.
Timestamps:
[5:00] The effects of separation from our mother

[8:10] How implicit memory of traumatic overwhelm programs a dysregulated nervous system

[10:45] A child will experience shock if they are placed into childcare before 30 months of age

[15:40] The surprising hormone that is vital to learning

[17:10] Children who feel safe have plenty of oxytocin to help them love, cuddle, and learn

[22:45] Eye contact in babies affects the development of empathy, sympathy, and compassion

[24:00] Why trauma can make it difficult to say, "I don't know"

[25:00] "I don't know" means to be curious and vulnerable, which is the enemy of insecurity

[26:30] Children at the age of 7-9 tend to become rigid in their knowledge out of fear of rejection

[27:00] Why movement needs to be utilized for attachment trauma

[28:25] Nature tells us that babies need to be intimately supported throughout the first three years

[29:30] Thrusting from crawling establishes force vectors that relate the child to gravity
Connect with me on social media
Products I recommend from this episode
Magnesium Calm – If you want better sleep and to ease brain inflammation then taking this supplement will help you.
Be safely guided step-by-step through the essential process for addressing stored trauma in your body.
Disclaimer:
By listening to this podcast, you agree not to use this podcast as medical advice to treat any medical condition in either yourself or others. Consult your own physician for any medical issues that you may be having.  This entire disclaimer also applies to any guests or contributors to the podcast. Under no circumstances shall Trauma Healing Accelerated, any guests or contributors to The Biology of Trauma podcast, or any employees, associates, or affiliates of Trauma Healing Accelerated be responsible for damages arising from the use of the podcast.
Comment Etiquette:
I want to hear from you!  I would love to hear your thoughts on this episode and let's make them constructive! A few requests: Please refrain from including URLs and using yours or someone else's business name to steer clear of spam.  Please do use your personal name or initials. 
Let's have a constructive, positive and productive discussion!
Have a question? Want to leave a comment? I want to hear from you.